Remzi Seker
University Faculty Research Fellow
Electrical, Computer, Software & Systems Engr Dept
Daytona College of Engineering
Daytona Beach campus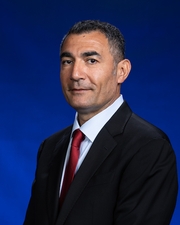 ---
Biography
Dr. Remzi Seker — the College leader in the area of cyber-security — focuses on ways to addresses the asymmetric threats arising from rapid, yet necessary use of technology. He has published more than 60 technical publications, and serves as an associate editor for both Computers and Electrical Engineering and the Journal of Cyber Security and Mobility. His research has been funded by Acxiom, the Office of Rural Health, the National Science Foundation and the Department of Defense.
Dr. Seker is a Professor of Electrical, Computer, Software & Systems Engineering. He received his Ph.D. degree in Computer Engineering from the University of Alabama at Birmingham. Before joining Embry-Riddle Aeronautical University, he was Professor and Chair of the Computer Science Department at the University of Arkansas at Little Rock where he was also leading the Assurance, Security and Software Usability Research and Education (ASSURE) Lab.
His research interests are safety and security critical systems and computer forensics. His research is motivated by the trend in rapid penetration of computer-based technologies into our society. When computer-based technologies become commodities on which people rely, the vulnerability of the society to disruptions offered by these technologies increase. Dr. Seker — as a researcher — focuses on ways to address the asymmetric threats that arise from rapid, yet necessary use of technology. He is co-author of one of the first papers that was published on Mobile Phishing, and possible techniques for preventing it.
Dr. Seker serves on the ACM and IEEE Computer Society Computing Curriculum: Computer Science 2013 (CS2013) Committee. In this committee, he is the lead person for the Operating Systems Knowledge Area, and he is member of the three-person committee designing the first Cyber Security Knowledge Area. In addition, Dr. Seker was selected to teach a short course for IEEE — titled Secure Software Development — in October 2012. He served as a Department of Homeland Security Software Assurance (SwA) Forum Working Group member.
---
Education
Ph.D. - Doctor of Philosophy in Computer Engineering,

University of Alabama at Birmingham
---