Reza Rahdar
Assistant Professor of the Practice, College of Aeronautics
Department of Engineering and Technology
Worldwide College of Aeronautics
Worldwide campus
Office Hours
7:00 - 20:00
Areas of Expertise
Systems Engineering/Management

Project Management
Engineering Management
Digital/analog design and development
Telecommunication (wired and wireless communication)
Radio Communication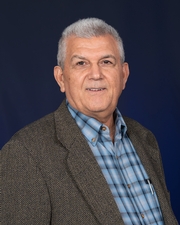 ---
Biography
Biography
Dr. Reza Rahdar, currently a full time faculty of the College of Aeronautics, have over 25 years of experience in systems design/development, and engineering systems that include telecommunication systems and networks, Radio communications, air defenses systems, avionics systems, and Airborne Warning and Control System (AWACS). Dr. Rahdar developed proficiency with systems engineering principles, process, and practices. He is an expert in taking systems from inception through design, development, and production. His skills are included but not limited to operations research, analytical/statistical analysis, trade studies, new product introduction including gates and design reviews processes, risk and opportunity management, reliability, availability & maintainability, and safety analysis, and complex project management.
Interests: Dr. Rahdar enjoys reading, writing, and translating books and articles. He translated two of Steven Hooking's books and many articles in English and Farsi.
Dr. Rahdar also serves as a mentor in the College of Aeronautics at Embry-Riddle Worldwide, responsible for developing and managing mentor/mentee relationship.
Professional Organizations: Dr. Rahdar is a Senior Member of the Institute of Electrical and Electronics Engineers (IEEE), a rare honor attained by fewer than eight percent of IEEE members, and the International Council on Systems Engineering (INCOSE).
---
Education
Ph.D. - Doctor of Philosophy in Applied Science,

Southern Methodist University

M.S. - Master of Science in Systems Engineering,

Southern Methodist University

M.S. - Master of Science in Operations Research,

Southern Methodist University

B. - Bachelor in Electrical Engineering,

Concordia University-Montreal
---
Currently Teaching
SYSE 500

:

Fundl's of System Engineering

SYSE 530

:

Sys Requirmt Anal & Modeling

ENGR 101

:

Introduction to Engineering
---
Courses Taught
Introduction to Systems Engineering Management – SYSE 560
Information Technology Management, Strategy, and Governance - MGMT 422
Business Continuity & Disaster Recovery Planning - MGMT 404
IT Audit and Control – MGMT 403
Legal Issues in Information Security - MGMT 402
Information Security Management – MGMT 394
Information Assurance and Information Quality - MGMT 389
Systems Forensics, Investigation & Response – MGMT 388
Fundamentals of Information Systems Security - MGMT 386
Aviation/Aerospace Systems Analysis Methods - MGMT 321
Business Information Systems –MGMT 320
Introduction to Management Information Systems – MGMT 221
---
Publications
A Systems Engineering Approach to Improving the Accuracy of Mobile Station Location Estimation
Reza Rahdar, Member, IEEE, Jerrell T. Stracener, and Eli V. Olinick
---
Professional Experience
Dr. Reza Rahdar began his professional career in the Telecommunication Industries with Nortel Networks, working for 12 years at the positions ranging from research & development engineer, project manager, solution architect, and Program manager. Dr. Rahdar' s Systems Engineering experience starts with Rockwell Collins in 2006 and then worked with Raytheon, Bell Helicopter, General Dynamics, and Boeing defense and security systems. His roles and responsibilities ranging from Sr. Systems Engineer to professional systems engineer, and SEIT (Systems Engineering Integration Team) lead. Dr. Rahdar work portfolio include Flight Control and Air craft actuations, Airborne Warning and Control System (AWACS) including Infosec management, Head-up-Guidance systems including Helmet Mounted Display System, HUD, and EVS. V-22 osprey avionics systems, Air Defense systems (PATRIOT, BMC4I), JTRS-GMR systems including mobile and radio communication and waveforms (Common Data Link (CDL), Link 11, Link 16, CW etc.) Broadband Mobile Communication (MUOS, UMTS, WCDMA, SATCOM, MILCOM, etc.), Mobile location estimation methods & algorithms (Directional Finding, E911 location accuracy, and LBS); Telecommunication systems (Wireline and Wireless communication systems/networks including 1G/2G/3G, CDMA, TDMA/FDMA, GSM/GPRS, circuit & packet switching, Optical and IP protocols)
Dr. Rahdar began his career with Embry-Riddle Aeronautical University Worldwide in 2012 as an adjunct instructor teaching information management and systems engineering courses. Since 2018, Dr. Rahdar moved into full-time teaching and faculty position.
---
Memberships and Credentials
IEEE - Institute of Electrical and Electronics Engineers (IEEE), Senior Member
INCOSE - International Council on Systems Engineering.
---