Richard W. Bloom
Professor of Social Sciences
Behavioral & Social Sciences Dept
Prescott College of Arts & Sciences
Prescott campus
Office Hours
MTWTHF: 3:00pm-5:00pm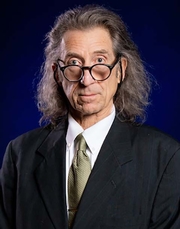 ---
Education
Ph.D. - Doctor of Philosophy in Clinical Psychology, Kent State University
M.A. - Master of Arts in Psychology, New School for Social Research
B.A. - Bachelor of Arts in Psychology, Columbia University
---
Currently Teaching
HON 350: Honors Seminar III
PSY 101: Introduction to Psychology
SIS 335: Counter-Intelligence
PSY 313: Personality & Profiling
---
Courses Taught
HON 350 Seminar III: Applied Intellectual and Cultural History
HU 341 World Philosophy
PSY 101 Introduction to Psychology
PSY 306 Psychology of Deception Detection
PSY 313 Personality and Profiling
PSY 350 Social Psychology
PSY 365 Abnormal Psychology
SIS 315 Studies in Global Intelligence I
SIS 325 Foundations of Terrorism
SIS 335 Counterintelligence
SIS 199, 299, 399, 499 Special Topics in Global Security and Intelligence Studies
SIS 565 Strategic Counterintelligence: Deception, Espionage, and Active Measures
SS 299, 399, 499 Special Topics in the Social Sciences
---
---
Professional Experience
Professor Bloom has worked for the United States Government as an intelligence operations manager; intelligence analyst; planner for psychological operations, special plans, and politico-military affairs; and military clinical psychologist.
He has been President of the Military Psychology Division of the American Psychological Association; Chair of the Aviation Security and Emergency Management Committee, Transportation Research Board, National Academies; Contributing Editor for the American Psychological Association's Contemporary Psychology and its PsycCRITIQUES; Editor of The Military Psychologist; Reviewer for the Journal of Personality Assessment; Appointee to the Governor of Arizona's Homeland Security Coordinating Council; and.Diplomate of the American Board of Professional Psychology.
He is a Fellow of the Society of Air Force Clinical Psychologists, Society of Personality Assessment, and Inter-University Seminar on Armed Forces and Society. He also is a member of the Association of Former Intelligence Officers.
At Embry-Riddle, Professor Bloom has been Department Chair, Social Sciences; Dean, College of Arts and Sciences; Chief Academic Officer; and Vice Chancellor for Academic Affairs before returning to a professorship in social sciences.
He carries out and reviews applied research, carries out policy analysis, and provides consultation services on aviation intelligence and security systems; aviation security threat, vulnerability, and risk assessment; terrorism, antiterrorism, and counterterrorism; intelligence collection and analysis, covert action, and counterintelligence; espionage, insider threat, and betrayals of trust; sexuality and personnel security; psychological profiling; psychology of deception detection, interviewing, interrogation, and torture; mental health and war; intelligence and security cultures; and information operations. He also works on the applied philosophy of behavioral/social sciences with security/intelligence applications. As well, he works on critical theory with applications for the philosophy of science; epistemology; ethics; hermeneutics; exegesis; psychological assessment; literary criticism; and historical, biographical, and autobiographical narrative.
Professor Bloom's scholarship is frequently utilized by international mass media to facilitate understanding of contemporary issues and events. His International Bulletin of Political Psychology (IBPP) at https://commons.erau.edu/ibpp archives short articles and interviews via keyword searches and tweets via Twitter (@IBPP3).
---
Memberships and Credentials
Certification:

License 183
State of New Mexico Board of Psychologist Examiners, Clinical Psychology (1977-retired as of 2013)

Diploma 3928
American Board of Professional Psychology, Clinical Psychology (1987-retired as of 2013)
---