Scott C. Ambrose
Title

Associate Professor

Email

Department

Management, Marketing and Operations Department

College

College of Business
Areas of Expertise
Commercial Airlines, Professional Selling, Marketing Strategy and Branding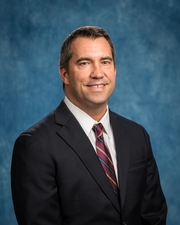 ---
External Links
---
Biography
Dr. Ambrose graduated from Kennesaw State University with a Doctorate of Business Administration in Marketing. He is currently an Assistant Professor of Marketing in the David B. O'Maley College of Business at Embry-Riddle University in Daytona Beach, Florida. Along with teaching core classes in marketing and sales, Dr. Ambrose teaches an MBA course in airline marketing.
He has publications appearing in academic journals such as Industrial Marketing Management, Journal of Business Research, Journal of Personal Selling and Sales Management, Marketing Management Journal, and the Journal of Selling. Dr. Ambrose also has publications in trade outlets such as the International Journal of Applied Forecasting and Airways Magazine.
He worked for several years at Delta Air Lines in various marketing roles primarily related to schedule development and he has hosted seminars on airline marketing to airlines from multiple parts of the world. In addition to his airline experience, Dr. Ambrose has also worked in sales for a major pharmaceutical company and for a regional medical services firm.
---
Education
D.B.A. - Doctor of Business Administration in Marketing, Kennesaw State University
M.B.A. - Master of Business Administration in Marketing, Georgia State University
---
Courses Taught
BA 220 - Principles of Marketing
BA 330 - Professional Selling
BA 625 - Airline Marketing
BA 326 - Marketing Management
BA 395 - Sports Marketing


---
---
Professional Experience
Editorial Review Board Member - Marketing Management Journal
---
Awards, Honors and Recognitions
Excellence in Research Award, David B. O'Maley College of Business Embry-Riddle, 2018-2019
Joseph R. Martin Distinguished Professor of Aviation Business for the Department of Management, Marketing, and Operations, David B. O'Maley College of Business Embry-Riddle, 2019-2020
Finalist for the Tej Gupta Outstanding Teaching Award, Embry-Riddle Daytona Campus, 2019
Outstanding Teacher Award, David B. O'Maley College of Business Embry-Riddle, 2017-2018