Sirani Mututhanthrige Perera
Title

Assistant Professor

Email

Department

Mathematics Department

College

Daytona College of Arts & Sciences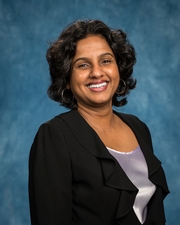 ---
External Links
---
Biography
Sirani K. M. Perera received B.Sc. (First Class Hons.) in Mathematics from the University Sri Jayewardenepura, Sri Lanka in 2004. She was the very first Sri Lankan selected by the Center for Mathematical Sciences at the University of Cambridge, UK, with the full Shell Centenary Scholarship (under the Cambridge Common Wealth Trust). She obtained the Part III Tripos in Mathematics (Hons.) from the University of Cambridge in 2006. Perera received a Ph.D. in Mathematics from the University of Connecticut, USA, in 2012. She was acknowledged for having very high student evaluations by the department of mathematics at the University of Connecticut, from fall 2009 to spring 2012. Currently, she is working as an assistant professor in Mathematics at Embry-Riddle Aeronautical University with research concentrations in numerical linear algebra and scientific computing. Her research scope includes; structured matrices (e.g. Vandermonde, Quasiseparable, Semiseparable, Bezoutian, Toeplitz, and Banded), matrices with displacement structure, DCT, DST, DFT, and DWT matrices,  generalizations of algorithms, fast and stable algorithms, numerical accuracy of algorithms, performance of algorithms, machine learning algorithms, signal processing, and image processing. 
---
Education
Ph.D. - Doctor of Philosophy in Mathematics, University of Connecticut
---
Currently Teaching
MA 241: Calculus & Analytical Geom I
MA 432: Linear Algebra
MA 532: Num Linear Algebra for Engin
MA 143: Precalculus Essentials
---
Courses Taught
Linear Algebra, Numerical Analysis, Mathematics and Algorithms, Abstract Algebra, Mathematical Modelling, Boolean Algebra, Computing for Finance, Combinatorics, Differential Equations,  Calculus I, Calculus II, Calculus for Business and Economics, Mathematics for Business and Economics, Precalculus, and Trigonometry   
---
Research Projects
---
User Publications
with Students and Collaborators
Sirani M. Perera, Arjuna Madanayake, Austin Ogle, Daniel Silverio, and Jacky Qi, A Fast Algorithm to Solve Delay Vandermonde Systems in Phased-Array Digital Receivers, accepted by the IEEE Transaction on Aerospace and Electronic Systems, (2021).
Sirani M. Perera, Daniel Silverio, and Austin Ogle, Efficient Split-Radix and Radix-4 DCT Algorithms and Applications, In Kotsireas I., Pardalos P., Parsopoulos K., Souravlias D., Tsokas A. (eds), Analysis of Experimental Algorithms. SEA 2019. Lecture Notes in Computer Science: 11544:184-201, Springer, (2019)
with Collaborators
Sirani M. Perera, Arjuna Madanayake and Renato Cintra, Radix-2 Self-recursive Algorithms for Vandermonde-type Matrices and True-Time-Delay Multi-Beam Antenna Arrays, IEEE Access 8: 25498-25508, (2020) 
Sirani M. Perera, Arjuna Madanayake and Renato Cintra, Efficient and Self-Recursive Delay Vandermonde Algorithm for Multi-beam Antenna Arrays, IEEE Open Journal of Signal Processing 1:64-76, (2020) 
Sirani M. Perera and Jianhua Liu, Complexity Reduction, Self/Completely Recursive, Radix-2 DCT I/IV Algorithms, Elsevier Journal of Computational Applied Mathematics, 379, 112936: 1-16 (2020)
Sirani M. Perera, Arjuna Madanayake, Nathan Dornback, and Nilan Udayanga, Design and Digital Implementation of Fast and Recursive DCT II-IV Algorithms, Circuits, System, and Signal Processing 38(2): 529-555, (2019) DOI information: 10.1007/s00034-018-0891-8
Sirani M. Perera and Jianhua Liu, Lowest Complexity Self Recursive Radix-2 DCT II/III Algorithms, SIAM J. Matrix Analysis and Applications 39(2): 664-682, (2018)
Sirani M. Perera, Signal Flow Graph Approach to Efficient and Forward Stable DST Algorithms, Linear Algebra and Its Applications 542: 360-390, (2018), DOI information: 10.1016/j.laa.2017.05.050
Sirani M. Perera, Viduneth Ariyarathna, Nilan Udayanga, Arjuna Madanayake, Ge Wu, Leonid Belostotski, Yingying Wang, Soumyajit Mandal, Renato J. Cintra, and Theodore S. Rappaport, Wideband N-beam Arrays with Low-Complexity Algorithms and Mixed-Signal Integrated Circuits, IEEE Journal of Selected Topics in Signal Processing 12(2): 368-382, (2018)
Viduneth Ariyarathna, Nilan Udayanga, Arjuna Madanayake, Sirani M. Perera, Leonid Belostotski, and Renato J Cintra, Design methodology of an analog 9-beam squint-free wideband IF multi-beamformer for mmW applications, In: Proceedings of IEEE 2017 Moratuwa Engineering Research Conference (MERCon): 236-241, IEEE, (2017)
Hong Liu, Sirani M. Perera and Jerry Klein, Using Model-based Learning to Promote Computational Thinking Education, In: P. Rich, C. Hodges (Eds.): Emerging Research, Practice, and Policy on Computational Thinking, Springer Series: Educational Communications and Technology: 153-172, Springer, (2017), DOI information: 10.1007/978-3-319-52691-1_10
Sunethra Weerakoon and Sirani M. Perera (Eds.), Present Status and the Way Forward for Public Universities in Sri Lanka, ISBN: 978-955-7280-00-4, Vidya Publishers (Pvt.) Ltd., Sri Lanka, (2017)
Sirani M. Perera and Vadim Olshevsky, A Fast Schur-Euclid-type Algorithm for Quasiseparable Polynomials, In: I. S. Kotsireas and E. Martinez-Moro (Eds.): Springer Proceedings in Mathematics and Statistics vol. 198: 341-383, Springer, (2017) 
Sirani M. Perera, Signal Processing based on Stable radix-2 DCT I-IV Algorithms having Orthogonal Factors, Electronic Journal of Linear Algebra vol. 31: 362-380, (2016)
Sirani M. Perera and Vadim Olshevsky, Fast and Stable Algorithms for Discrete Sine Transformations having Orthogonal Factors, In: M. Cojocaru, I. S. Kotsireas, R. Makarov, R. Melnik, and H. Shodiev (Eds.): Interdisciplinary Topics in Applied Mathematics, Modeling and Computational Science, vol. 117: 347-354, Springer, (2015)
Sirani M. Perera, Grigory Bonik, and Vadim Olshevsky, A Fast Algorithm for the Inversion of Quasiseparable Vandermonde-like Matrices, e-print in Cornell University Library, arXiv:1401.1874[math.NA], (2014)
Sirani M. Perera and Vadim Olshevsky, Stable, Recursive and Fast Algorithms for DST having Orthogonal Factors, Journal of Coupled Systems Multiscale Dynamics vol. 1(3): 358-371, (2013)
Sirani M. Perera, Quasiseparable Approach to Matrices of Vandermonde Type, Thesis, University of Connecticut, ProQuest Publication, Ann Arbor, USA, (2012), 207 pages, UMI Number 3533908;
Adviser: Vadim Olshevsky
In Media
Sirani M. Perera, SL needs more institution akin to SAITM, Daily News, Sri Lanka, March 27 (2017), http://dailynews.lk/2017/03/28/business/111536/sl-needs-more-institutions-akin-saitm
Sirani M. Perera and Sunethra Weerakoon, The International Industrial Mathematics Conference, Coffee Table, Independent Television Network(ITN), Sri Lanka, June 1 (2016),  http://www.itntv.lk/2016/06/01/coffee-table-2016-06-01/
Sirani M. Perera, Co-Chair of The International Industrial Mathematics Conference: 
Savidu Newsletter 2(2): 1, 30-33, August (2016), http://dr.lib.sjp.ac.lk/bitstream/handle/123456789/3717/Savidu%202016%20-%20Volume%2002%20Issue%2002.pdf?sequence=1&isAllowed=y
Dinamina Newspaper, Sri Lanka, June 6 (2016), http://epaper.dinamina.lk/art.asp?id=2016/06/06/pg11_0&pt=p&h 
Colombo Telegraph, Sri Lanka, June 5 (2016), https://www.colombotelegraph.com/index.php/ranil-wickremesinghejune-5-2016/
ITN News, Sri Lanka, June 4 (2016), http://www.itnnews.lk/video-archive/itn-news-2016-06-04-07-00pm/ 
Prime Minister's Official Website, Sri Lanka, June 4 (2016), http://www.pmoffice.gov.lk/news-list.php?tpages=87&page=68 
---
Professional Experience
Aug 2015 - To date, Assistant Professor in Mathematics, Embry-Riddle Aeronautical University, USA
Aug 2012 - July 2015, Associate Professor in Mathematics, Daytona State College, USA
Aug 2008 - May 2012, Teaching Assistant in Mathematics, University of Connecticut, USA 
Feb 2007 - Jul 2008, Lecturer in Mathematics, University of Colombo, Sri Lanka
Nov 2007 - Jul 2008, Visiting Lecturer in Mathematics, Asia Pacific Institute of Information Technology (APIIT), Sri Lanka 
Feb 2005 - Sep 2005, Lecturer in Mathematics, University of Sri Jayewardenepura, Sri Lanka
Feb 2004 - Jan 2005, Instructor in Mathematics, University of Sri Jayewardenepura, Sri Lanka
---
Memberships and Credentials
Plenary Speaker of the Special Event on Analysis of Experimental Algorithms, Kalamatha, Greece, 2019
Member of the Research Committee, Embry-Riddle Aeronautical University, USA, Fall 2019 - To date
Initiator in designing Numerical Linear Algebra for Engineers course curriculum, Embry-Riddle Aeronautical University, USA, 2019 
Member of the Academic Computing Committee, Embry-Riddle Aeronautical University, USA, Fall 2018 - To date
Adviser of the Kappa Mu Epsilon (Mathematics Honor Society), Embry-Riddle Aeronautical University, USA, Fall 2017 - To date
Co-Adviser of the SIAM Student Chapter, Embry-Riddle Aeronautical University, USA, Fall 2016 - To date
Co-Adviser of the SeaPearch Competition, Embry-Riddle Aeronautical University, USA, 2017
Chair of the Session II-C, 36th South Eastern Atlantic Regional Conference on Differential Equations, Florida Gulf Coast University, USA, 2016
Co-Chair of The International Industrial Mathematics Conference, University of Sri Jayewardenepua, Sri Lanka, 2016
Chair of the Contributed Session III, 39th Annual SIAM Southeastern Atlantic Section Conference, University of Alabama, USA, 2015
STEM Mentor for the Spring 2015 cohort of the STEM Community Scholars Program, NSF Award at Daytona State College, USA, 2015
Member of the SIAM Activity Group on Linear Algebra, 2015 - To date
Member of the SIAM Activity Group on Imaging Science, 2015 - 2017
Organizer of the Mathematics Faculty Seminar, Daytona State College, USA, 2014 - 2015
Faculty Representative of the Instructional Program Review Committee, Daytona State College, USA, 2014 - 2015
In Charge of Creating Survey in Mathematics Course, Daytona State College, USA, 2014
Chair of the Numerical Methods Session, 37th Annual SIAM Southeastern Atlantic Section Conference, Oak Ridge National Laboratory and the University of Tennessee-Knoxville, USA, 2013
Teaching Assistant Mentor at the Department of Mathematics, University of Connecticut, USA, 2009 - 2012
Member of the American Mathematical Society, 2009 - To date
Chief Coordinator of the Sri Lankan Mathematics Olympiad Awards Ceremony, Sri Lanka, 2007
Coordinator of the Sri Lankan Mathematics Olympiad Competition, Sri Lanka, 2007
---
Awards, Honors and Recognitions
Inventor of the United States Patent (Number 10,904,573 B2) entitled Reduced Multiplicative Complexity Discrete Cosine Transform (DCT) Circuitry by the USPTO, Jan 26, 2021   
Co-PI of the Electrical, Communications, and Cyber Systems(ECCS) Grant  by the National Science Foundation, USA, 2017-2021
PI of the Faculty Innovative Research in Science and Technology Grant by Embry-Riddle Aeronautical University, USA, 2020-2021
PI of the Faculty Innovative Research in Science and Technology Grant  by Embry-Riddle Aeronautical University, USA, 2019-2020
Co-PI of the Faculty Innovative Research in Science and Technology Grant by Embry-Riddle Aeronautical University, USA, 2017-2018
Awardee of the Early Career Travel Grant by the 20th Conference of the International Linear Algebra Society, Belgium, 2016
PI of the Faculty Innovative Research in Science and Technology Grant by Embry-Riddle Aeronautical University, USA, 2016-2017
Awardee of the Faculty Research Development Awards by Embry-Riddle Aeronautical University, USA, 2015-2016 and 2016-2017
Nominee of the Outstanding Junior Research Faculty at Daytona State College, USA, 2013-2015
Awardee of Travel Grant by the Laurier Center for Women in Science, Canada, 2013
Awardee of the Advanced Doctoral Fellowship in Mathematics by the University of Connecticut, USA, 2012
Awardee of the Doctoral Dissertation Fellowship in Mathematics by the University of Connecticut, USA, 2012
Awardee of the Doctoral Travel Grant by the University of Connecticut, USA, 2012
Awardee of the Summer Predoctoral Fellowship in Mathematics by the University of Connecticut, USA, 2010
Awardee of the Industrial Research Scholarship by City University London, UK, 2008
Awardee of the Shell Centenary Scholarship, Cambridge Commonwealth Trust by the University of Cambridge, UK, 2005-2006
Awardee of the Chevening Colors for Outstanding Undergraduate in Mathematics by British Council, Sri Lanka, 2005
Recognition for the Top Most Number of A's in Mathematics in 98/99 batch at Faculty of Applied Sciences, University of Sri Jayewardenepura, Sri Lanka, 1999 - 2004
Recognition for the Highest GPA in Chemistry in 98/99 batch at Faculty of Applied Sciences, University of Sri Jayewardenepura, Sri Lanka, 1999 - 2003
due to research supervision of students 
Levi Lingsch was selected as a system engineering intern at Sierra Nevada Corp, USA, 2021
Austin Ogle was selected as the Research Fullbright Scholar at the Space Technology Research Group in Kazakhstan, 2021
Austin Ogle was selected as the 2019 Research Scholar, Embry-Riddle Aeronautical University, USA, 2019
Daniel Silverio and Austin Ogle obtained Internal Student Research Award, Embry-Riddle Aeronautical University, USA, 2018-2019
Austin Ogle and Daniel Silverio obtained Internal Student Research Award, Embry-Riddle Aeronautical University, USA, 2017-2018
Genesis Vargas was selected to present on Quasiseparable Approach to Evaluate Cubic Splines via A Fast and Stable Algorithm at COAS Industry Advisory Board Meeting, Embry-Riddle Aeronautical University, USA, 2017 and 2018
Austin Ogle obtained the First Place at Discovery Day Award, Embry-Riddle Aeronautical University, USA, 2017
Austin Ogle obtained ASPiRE Conference Funds, Florida Gulf Coast University, USA, 2017
Patrick Rupp, Genesis Vargas, and Dylan English obtained Spark Funds, Embry-Riddle Aeronautical University, USA, 2017