Sonya A. H. McMullen
Assistant Professor, College of Aeronautics; Associate Program Chair, BS in Aviation Security
Department of Undergraduate Studies
Worldwide College of Aeronautics
Worldwide campus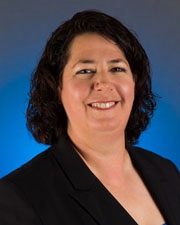 ---
Biography
Dr. McMullen started her career at ERAU as an adjunct instructor at the Barksdale Air Force Base Campus in 2004. From 2005 to 2006, Dr. McMullen served as a Center Faculty Chair/Director of Academics at the Katterbach, Giebelstadt, and Stuttgart Centers in Germany and taught throughout Europe until 2008. As an Assistant Professor in the College of Aeronautics at Embry-Riddle Aeronautical University Worldwide, Dr. McMullen has taught a variety of undergraduate and graduate courses to include Aviation Legislation; History of Aviation in America; Human Factors in Aviation Safety; Ergonomics; Space Mission and Launch Operations; Applications in Space: Commerce, Defense and Exploration; Aircraft and Spacecraft Development; Human Factors in the Aviation/Aerospace Industry; and Aerospace Psychology. In addition, Dr. McMullen has taught graduate courses for College of Information Sciences and Technology (IST) at The Pennsylvania State University World Campus.
Prior to joining Embry-Riddle, Dr. McMullen served as a Space and Missile Operations Officer in the United States Air Force (USAF) from 1996 to 2005. Her duties included Delta II Training Officer, Minuteman III Intercontinental Ballistic Missile (ICBM) Combat Crew Commander, Flight Commander, Deputy Director Collection Systems Evaluation Task Force, and Command Post Chief of Training.
Dr. McMullen's research interests focus on the evolution of the commercial space transportation industry as well as applications in multisensor data fusion and data visualization. Dr. McMullen is the co-author of the textbook, "Mathematical Techniques in Multisensor Data Fusion, 2nd Edition"; test prep book, "Master the Military Flight Aptitude Tests, 9th Edition"; and multiple refereed international and national conference papers. Dr. McMullen is an appointed member of the Next Generation Analyst V Committee for SPIE. Dr. McMullen has also served as a U.S. delegate to the North American Treaty Organization (NATO) Research and Technology Organization IST-085 and IST-063 Network Visualization research groups supporting the exploration, development, and assessment of advanced data visualization techniques to support large data set analysis and decision making for defense and crisis management applications.
---
Education
Ph.D. - Doctor of Philosophy in BA-Homeland Security and Aeronautical Science Management,

Northcentral University

M.A.S. - Master of Aeronautical Science in Aeronautical Science,

Embry-Riddle Aeronautical University

B.S. - Bachelor of Science in Industrial Engr,

The Pennsylvania State University
---
Awards, Honors and Recognitions
Dr. Mcmullen's awards include the National Security Agency Deputy Director of Analysis and Production Team Award, Defense Meritorious Service Medal, Air Force Commendation Medal with Oak Leaf Cluster, Joint Service Achievement Medal, Air Force Achievement Medal, and Combat Readiness Medal.