Stefan Kleinke
Title

Associate Professor of the Practice, College of Aeronautics; Associate Program Coordinator, MS in Unmanned Systems

Email

Department

Department of Graduate Studies

College

Worldwide College of Aeronautics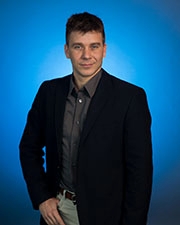 ---
Biography
Stefan Kleinke is a new addition to the College of Aeronautics.
He is a 15-year military aviation veteran. Serving for the German Navy and Air Force as pilot and instructor on Tornado and T-38 jet aircraft, he achieved 3,000 total flying hours before leaving the military in 2012. He was selected as flight examiner for the multinational Euro NATO Joint Jet Pilot Training program, a position that culminated his long-term engagement in flying education, standardization, and evaluation.
Parallel to his military career, Kleinke always strove to diversify his aviation knowledge. His civilian qualifications include Airline Transport Pilot licenses, Commercial Pilot in helicopter and sea plane, and certifications as an Airframe and Powerplant Mechanic and Aircraft Electrical Technician. He is an FAA Certified Flight and Advanced Ground Instructor with Instrument qualification.
Interests: When not engaged with teaching or learning -- and not strapped to anything that flies -- Kleinke can probably be found crouched behind a camera or microphone or in front of his computer, working on audiovisual challenges. Or, he might, weather permitting, introduce his 16-month-old son to the beauty of the outdoors.
Organizations: Member of the National Technical Honor Society and Phi Theta Kappa.
 : 
---
Education
M.A.S. - Master of Aeronautical Science in Aeronautics,

Embry-Riddle Aeronautical University

B.S. - Bachelor of Science in Aeronautical Science,

Carl-Friedrich-Gauss-Gymnasium

A.A.S. - Associate of Applied Science in Aviation Maintenance Technology,

Eastern New Mexico University
---
Ratings and Certificates
---
Currently Teaching
ASCI 202

:

Intro to Aeronautical Science

ASCI 317

:

Rotorcraft

UNSY 415

:

Unmanned Space Systems & Appln

UNSY 329

:

Unmanned Sys Comptn & Program

UNSY 321

:

Unmanned Sys Local & Path Plan

UNSY 421

:

Unmanned Sys Mission Planning

UNSY 410

:

Unmanned Sys Sensing Techngy
---