Taan ElAli
Title

Professor, College of Aeronautics; Program Coordinator, BS in Engineering

Email

Department

Department of Engineering and Technology

College

College of Aeronautics
Areas of Expertise
Dynamic Systems, Control Systems, Signal Processing, Engineering Education, Assessment and Accreditation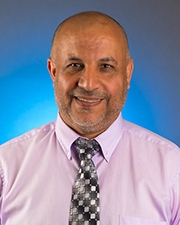 ---
External Links
---
Biography
Taan S. ElAli, Ph.D., is a full professor of electrical engineering since 2002. While on a two-year sabbatical leave, he has served as the curriculum committee chairman of the new College of Engineering at King Faisal University (KFU) from August 2008 to August 2009. During the first year, he wrote the electrical engineering curriculum, the common core course requirements for all engineering programs, and the academic quality assurance plan for the entire college curriculum. During the second year of the leave, ElAli was responsible for the implementation of the college of engineering quality assurance plan and served as the electrical engineering department chair.
Dr. ElAli has worked full-time at several academic institutions for more than 28 years in the areas of curriculum development, accreditation, teaching, research, etc. Dr. ElAli has discovered a new approach to dynamic system identification. He has contributed many papers and conference presentations in the area of dynamic systems and signal processing. In his efforts to revolutionize the engineering education, Dr. ElAli has developed a new approach to Electrical Engineering education. This approach has led, among others, to the restructuring of one of the major courses in the engineering curriculum and thus to the restructuring of the textbooks used for teaching the course. From this restructuring, two textbooks have emerged: "Continuous Signals and Systems with Matlab" and "Discrete Systems and Digital Signal Processing with Matlab." The third editions of these two courses were published in October 8, 2021. Universities like Rochester Institute of Technology, University of Texas at San Antonio, The University of Georgia, etc. have come onboard to use these textbooks. Dr. ElAli has taken the PBC approach to engineering education one step further and introduced the idea of Student-Focused Learning through Project-Based Curriculum. Dr. ElAli has contributed a chapter to the well-known "The Engineering Handbook" by CRC press, another to the well-known "The Electrical Engineering Handbook", by Francis and Taylor Press, and another two to "Advances in Systems", and "Computing Sciences and Software Engineering", by Springer, Germany, 2006 and 2007 respectively. 
---
Education
Ph.D. - Doctor of Philosophy in Electrical Engineering, University of Dayton
M.S. - Master of Science in Applied Mathematics, University of Dayton
M.S. - Master of Science in Systems Engineering, Wright State University
B.S. - Bachelor of Science in Electrical Engineering, Ohio State University
---
Memberships and Credentials
Dr. ElAli is a Senior Member of the Institute of Electrical and Electronics Engineers (IEEE), a rare honor attained by fewer than eight percent of IEEE members and is conferred only on those who have outstanding research achievements and who have performed great service to the scientific community.
---
Awards, Honors and Recognitions
Dr. ElAli is a Fulbright Scholar