Thomas Tacker
Professor of Economics
Accounting,Economics,Finance,and Information Sci
Daytona College of Business
Daytona Beach campus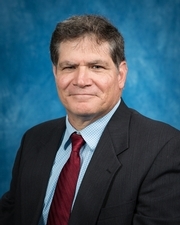 ---
Education
Ph.D. - Doctor of Philosophy in Economics, University of North Carolina System : Chapel Hill
B.S. - Bachelor of Science in Management, Embry-Riddle Aeronautical University
---
Currently Teaching
EC 210: Microeconomics
EC 315: Managerial Economics
---
Publications
SELECTED PUBLICATIONS
Rethinking Consumer Protection: Escaping Death by Regulation. Lexington Books | Rowman & Littlefield, 2019.
Introduction to Air Transport Economics: From Theory to Applications, 3rd ed.,by Bijan Vasigh, Kenneth Fleming and Thomas Tacker. Routledge: 2018.
"US Airline Antitrust Policy and Empty Core Disequilibrium," Journal Of Private Enterprise, Fall 2009.
"Airline Pricing in Business and Leisure Markets: An Empirical Study," with Atef Ghobrial and Ken Fleming, Journal of Transportation, Law, Logistics and Policy, Fall 1998, Volume 86, Number 1, pp. 65-80.
"The Consequential Economic Benefits of SATS," with Ken Fleming and Seth Young, NASA_Report August 2000.

"Talking Privatization: As Europe Takes the Lead, Effort Gets Mixed Reviews in U.S.," co-authored with Bijan Vasigh and Mehdi Haririan, Airport Business Magazine, March 1996.

"Privatization Trends in Aviation," Airport Business Magazine, Co-authored with Bijan Vasigh and Mehdi Haririan, February 1996.

"Overcoming Discimination Through Entrepreneurship" Enterprise and Education, Summer 1995.

"Competition and Market Process in the U.S. Airline Industry," Transporation Research Forum November 1994 Proceedings, Vol. 2, pg. 687-698.




---
Awards, Honors and Recognitions
Grants and Awards (partial listing)
Hayek Fund for Scholars 2018 ($4,500 for research assistants, other expenses)

1996 Leavey Award for Excellence in Private Enterprise Education for Managerial Economics Distance Learning Course Design.

1995 National Federation of Independent Businesses Award Most Outstanding Paper On Entrepreneurship and Public Policy for Overcoming Employment Discrimination through Entrepreneurship, APEE Journal of Free Enterprise.