Douglas LeVeque
Title

Adjunct Instructor I

Email

Department

Department of Behavioral and Social Sciences

College

College of Arts & Sciences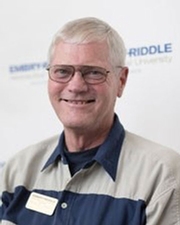 ---
Biography
Doug LeVeque currently resides on a 2,400 acre ranch that was homesteaded by his G-Grandfather in the mid 1800's. It is located about thirty miles south of the city of Great Falls, MT. He is an assistant professor and has been married to his wife Ronnie since 1976. They have three children and six great grand children. All are spoiled to death. Doug has taught for several universities including Park University, Montana State University, The University of Great Falls, and of course Embry-Riddle Aeronautical University. He has held the positions of Academic Director of the Great Falls campus of Park University and Director of Academics for ERAU at the Great Falls campus.
Doug served in the USAF from 1974 to 1980 and was last stationed behind the wall in Berlin Germany. He was also stationed at Offutt AFB in Nebraska where he helped develop the electronic counter measures system on the B-1 Bomber.
Being a contractor at one time, Doug built the house he lives in and now builds custom cabinets and frames on the side.
---
Education
M.S. - Master of Science in Education: Learning Development,

Montana State University-Northern

B.S. - Bachelor of Science in Mathematics,

University of Great Falls

B.S. - Bachelor of Science in Agricultural Business,

Montana State University
---
---
Courses Taught
STAT 211 - Statistics with Aviation Applications
STAT 222 - Business Statistics
ECON 210 - Microeconomics
ECON 211 - Macroeconomics
---
Professional Experience
Doug served six and one half years in the United States Air Force and was the recipient of the Air Force Commendation Metal. Doug has been teaching since 1990 at four universities. He was the recipient of the Innovation in Academic Services Award form Park University for 2010/2011. Doug was also the recipient of the NISOD Excellence Award from the University of Texas at Austin and was selected to represent Montana State University College of Technology at the restructuring conference for the Montana State University system.
---