Herb Hoffmann
Title

Adjunct Faculty

Department

Department of Graduate Studies

College

College of Aeronautics
Office Hours
per appointment on EagleVision
Areas of Expertise
Research Methods
Safety Management System in Aviation (Safety Risk Management)
Human Factors
Air Navigation (Global Positioning System (GPS), Differential-GPS, Radar, RNP, Celestial with Grid and Pressure)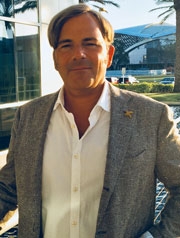 ---
Biography
Dr. Hoffmann is a former U.S. Air Force Air Weapons Controller and Senior Navigator. His military service included both operational and supervisory duties in mobile tactical and strategic air control (AN/TPS-43E and OTH-B [AN/FPS-118]). Furthermore, he was a rated Navigator on the KC-135 A/Q Stratotanker, and a Senior Navigator (Instructor / Evaluator) qualified on the C-130 E/H Hercules tactical transport aircraft. Following his military service, he joined the Deutsche Flugsicherung ([DFS] German Air Traffic Control), and flew as a freelance Cirrus SR20/22 and Socata TBM-700 pilot. He currently holds the following Federal Aviation Administration (FAA) pilot certificates: Commercial Single and Multiengine Land-Instrument, Flight Instructor airplane single engine, and Flight Instructor instrument airplane. He has accrued 105 combat missions, with over 4000 hours of time spent flying / navigating worldwide.
Dr. Hoffmann has been teaching for Embry-Riddle Worldwide since 2004, earning his Ph.D. in Business Administration with specialization in Aeronautical Science Management from Northcentral University in Prescott, Arizona, in September 2008.
Additionally, he has taught five years as an instructor at the DFS Academy near Frankfurt, Germany. Thereafter, he was selected as the international project representative of the Ground Based Augmentation System (GBAS/GLS) Project "GBAS Bremen". His outstanding dedication enabled the DFS to receive FAA support for the Honeywell Ground Station SLS 3000+ (provable safe prototype certification), as well as gaining support from The Boeing Company and TUIfly allowing for the operational testing of the precision instrument approach system in Bremen, Germany. 
In his last job as DFS Senior Safety Expert, he conducted national and international Safety Assessments / Safety Cases and related Safety Projects covering the terminal, and en-route segment. He was named the Safety Lead for the FABEC AMRUFRA Project, FABEC FRA - Free Route Airspace Project, and the SESAR ODP - Single European Sky Initiative Operational Descent Profile Project. He also managed highly visible safety cases such as the unmanned aerial system EUROHAWK. Subsequently, he was selected to serve one year at the German National Supervisory Authority (equivalent FAA) as the Senior Expert in Safety Management.
Combining 35 years of a broad "on the job" experience he is now engaged at the DFS Academy as the project manager for the integration of Voice Recognition Response into the ATCO simulator systems, and to address future training concepts to include the flipped classroom and blended learning.
---
Education
Ph.D. - Doctor of Philosophy in Business Administration: Aeronautical Science Management,

Northcentral University

M.A.S. - Master of Aeronautical Science in Aviation Aerospace Management,

Embry Riddle Aeronautical University

B.A. - Bachelor of Arts in International Affairs,

University of Puget Sound
---
Ratings and Certificates
---
Courses Taught
ASCI 185 Introduction to Flight  
ASCI 309 Aerodynamics
SFTY 320 Human Factors in Aviation Safety
ASCI 490 Aeronautical Science Capstone Course
ASCI 515 Aviation/Aerospace Simulation Systems
MBAA 522 Business Research Methods
ASCI 604 Human Factors in the Aviation/Aerospace Industry
ASCI 619 Airport Certification and Operations Safety
ASCI 621 Aviation /Aerospace Safety Program Management
RSCH 670 Research Methods
ASCI 690 Capstone
ASCI 691 Graduate Capstone Course
---
User Publications
Carnaroli, G., Hoffmann, H. O., Hadjistavri, A., Meletie- Panayide, A., Tejedo Meneses, A., McLean-Chambers, S., & Morić, M. (in press). The Effective Application of Learning Theory and Current Trends in Best Practices for Teaching Air Traffic Controllers (ATCO) and Air Traffic Safety Electronics Personnel (ATSEP). Civil Air Navigation Services Organization (CANSO).
Zurman, C., Hoffmann, H. O., & Ruff-Stahl, H. K. (2019). Difference in attitudes toward Crew Resource Management based on nationality. International Journal of Aviation, Aeronautics, and Aerospace, 6(4). Retrieved from https://commons.erau.edu/ijaaa/vol6/iss4/8
Jaussi, J. A., & Hoffmann, H. O. (2018). Manned Versus Unmanned Aircraft Accidents, Including Causation and Rates. International Journal of Aviation, Aeronautics, and Aerospace, 5(4). https://doi.org/10.15394/ijaaa.2018.1262
Hoffmann, H. & Walton, R. (2018). Integration of the ground‐based augmentation system in continuous descent operations. NAVIGATION. 2018; DOI - 10.1002/navi.262. https://doi.org/10.1002/navi.262
Heidelmeyer, G., Hoffmann H. (2010). Safety Assessment on the use of ADS-B in an Air Situation Display for Separation Purposes. Langen, Germany: German Air Navigation Services. (Document-ID: OT064-EC-D04)
Hoffmann, H. O. (2008). Assessing continuous descent arrivals and instrument procedures towards increased runway landing capacity (Order No. 3333046). Available from ProQuest Dissertations & Theses Global. (304822986). Retrieved from
https://search-proquest-com.ezproxy.libproxy.db.erau.edu/docview/304822986?accountid=27203
Biebrach, R., & Hoffmann, H. (2003). Training manual: Instrument navigation / instrument procedures. Langen, Germany: German Air Navigation Services Academy.
Hoffmann, H. (1994). Is there a reduction of safety with the removal of the Navigator in the C-130J Hercules? (Unpublished Graduate Capstone Project). Embry-Riddle Aeronautical University, Daytona Beach.
Reviewer:

Journal of Aviation Technology and Engineering (Purdue University Press):
Fernandez, Camilo Sr. (2021) "Changing the Process in Educational Field and Air Navigation through Advances in Hologram Technology," Journal of Aviation Technology and Engineering: Vol. 10: Iss. 1, Article 2. https://doi.org/10.7771/2159-6670.1212
Faculty advisor:
Miiro, S. (2017). The Issues and Complexities Surrounding the Future of Long Duration Spaceflight. http://commons.erau.edu/ww-graduate-works/3
Faculty Advisor: Dr. Herbert Hoffmann
Lücke, M. (2009). Automatic Dependent Surveillance - Broadcast "Ein geeignetes Ortungssystem für den Endanflug?" [… "A suitable Surveillance System for the final approach?"] (Bachelor Thesis). Fachhochschule Gelsenkirchen, Gelsenkirchen. Faculty Advisor: Dr. Herbert Hoffmann
---
Professional Experience
PROFESSIONAL DEVELOPMENT -
United States Air Force Squadron Officers School (in Residence), Maxwell AFB, AL. (1995)
Airborne Weather Radar OPS Tech Seminar-FAA#0897EA0XX, Zurich, Switzerland. (2001)
German Air Traffic Control Academy: Instrument Flight Procedure Design Course, Langen, Germany. (2003)
German Air Traffic Control Academy: Classroom Teaching Techniques Course, Langen, Germany. (2004)
German Air Traffic Control Academy: Theory of on the Job Training Instruction -ATM, Langen, Germany. (2004)
German Air Traffic Control Academy: Basic Satellite Navigation Course, Langen, Germany. (2004)
EUROCONTROL IANS ACADEMY: Global Navigation Satellite Systems Course, Luxembourg. (2006)
Federal Aviation Administration: Certified Flight Instructor Refresher Course, Online, Gleim.com. (2006)
German Air Traffic Control Academy: Safety Management System-Safety Methodology Course, Langen, Germany. (2007)
Federal Aviation Administration: Certified Flight Instructor Refresher Course, Online, Gleim.com. (2008)
EUROCONTROL IANS ACADEMY: Safety Management in ATM Course, Luxembourg. (2009)
Federal Aviation Administration: Certified Flight Instructor Refresher Course, Online, Gleim.com. (2010)
EUROCONTROL IANS ACADEMY: Human Factors for ATM Safety Actors Course, Luxembourg. (2011)
Federal Aviation Administration: Certified Flight Instructor Refresher Course, Online, Gleim.com. (2012)
Embry Riddle Aeronautical University: Capstone Chair - transition from ASCI 690 to 691. (2011-2012)
Federal Aviation Administration: Certified Flight Instructor Refresher Course, Online, Gleim.com. (2014)
ERAU FACD qualification for the following mediums: Online, Eagle Vision Home / Classroom / Blended. (2011 - 2015)
German Air Traffic Control Academy: Learning Management System Administration Course, Langen, Germany. (2016)
German Air Traffic Control Academy: Learning Management System: Captivate Software and eLearning Didactics Course, Langen, Germany. (2016)
German Air Traffic Control Academy: Educational Qualification Course, Langen, Germany. (2016)
Federal Aviation Administration: Certified Flight Instructor Refresher Course, Online, Gleim.com. (2016)
Embry Riddle Aeronautical University: Virtual Community of Practice (VCoP) Spring 2018, Worldwide. (2018)
Federal Aviation Administration: Certified Flight Instructor Refresher Course, Online, Gleim.com. (2018)
Embry Riddle Aeronautical University: Virtual Faculty Learning Community (V-FLC) Fall 2018, Worldwide. (2018)
Embry Riddle Aeronautical University: Self-Paced Workshop on APA Formatting, Center for Teaching and Learning. (2019)
INGENAV: Pedagogical Booster Workshop, Langen, Germany. (2019)
Federal Aviation Administration: Certified Flight Instructor Refresher Course, Online, Gleim.com. (2020)
PfO Beratungsgesellschaft {consulting company} mbH: Virtual Seminar - Shaping change successfully, Online, PfO Beratungsgesellschaft mbH. (2020)
Embry Riddle Aeronautical University: Fall 2020 V-FLC: In Full Bloom with Bloom's Taxonomy. (2020)
COMMITTEES – 
EUROCONTROL LATO - Landing and Take Off Group (2004-2006)
International GBAS Working Group (2004-2006)
FABEC AMRUFRA Project Safety Lead (2009)
FABEC FRA - Free Route Airspace Project Safety Lead (2016)
SESAR ODP - Single European Sky Initiative Operational Descent Profile Project Safety Group Lead (2016)
German Air Traffic Control Academy - Learning Management Expert Group Lead (2016 - 2019)
Civil Air Navigation Services Organisation (CANSO) Operational Training Taskforce (OTTF) - Co-Lead Work Group Four (2021)
---
Awards, Honors and Recognitions
United States Air Force Air Medal (Third Oakleaf Cluster), Aerial Achievement Medal, Commendation Medal (Third Oakleaf Cluster)