Jennifer Hinebaugh
Title

Assistant Professor and Undergraduate Program Coordinator

Email

Department

Management, Marketing and Operations Department

College

College of Business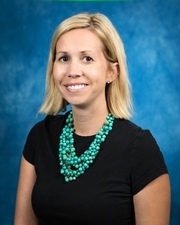 ---
Biography
My name is Dr. Jennifer Hinebaugh and I am presently the Undergraduate Coordinator as well as an Assistant Professor of Management for the O'Maley College of Business at Embry-Riddle Aeronautical University. This is a full-time faculty position in which I am the course monitor. I have a Bachelor of Arts from The Ohio State in Communication/Broadcast/Journalism, a Master of Business Administration in Aviation from Embry Riddle Aeronautical University as well as Doctorate in Business Administration with an area of concentration of International Business.

In my previous role at Embry-Riddle Aeronautical University I was an Instructional Specialist for the First Year Programs Office. I provided academic advisement to first year college students. In this role, I assisted with degree requirements, four year academic planning, registration, and monitoring academic progress. I also assisted the Director of the Student Academic Support Center with the development, implementation, and operation of programs designed to enhance student recruitment, retention, and graduation rates. The job provided academic counseling and referral assistance to first year students. Additionally it provided an opportunity to instruct three sections of the Student Success Course (UNIV 101) each year.  In preparation for the 2010-2011 academic year, I was entrusted with revamping the Student Success Course curriculum and reviewing new materials used in the course.  Each year, I was responsible for training new instructors and reviewing curriculum for all Student Success instructors. 

My first opportunity at Embry-Riddle Aeronautical University was at the Worldwide Campus as a Manager of Marketing located here in Daytona Beach. I was responsible for planning and co-coordinating institutional marketing activities across the Embry Riddle Worldwide Campus. I provided management and support on a wide variety of marketing issues and activities, ranging from the strategic to the tactical, including: market analysis and planning, new program development, portfolio planning and analysis, market and competitor research. I prepared marketing communications plans and/or publicity material and communicate with a target audience. I was responsible for all standards and aspects of marketing including promotion, advertising, print and electronic materials and media production and to enforce compliance. I determined release of policies relating to the use of University name, crest and logo. Additionally, I created press releases for news worthy items pertaining to the Worldwide.

Before joining Embry-Riddle I served as producer of a one-hour television show called Mercedes-Benz Florida Golf Scene.  The show aired seven times per month on the Sunshine Cable Network, which is the largest sports channel in the State of Florida.  I was responsible for all aspects of producing the show including script writing, media development, lighting and sound.  I maintained and promoted a relationship with senior and middle management at the Sunshine Network and worked closely with the company sponsor - Mercedes Benz.

Prior to this position, I worked for a large regional marketing and advertising firm in Orlando.  My responsibilities included corporate image design utilizing both film and print media. In this role I worked as project manager with Darden Restaurants, Inc., owners of Red Lobster and Olive Garden restaurants to prepare their annual report to stockholders.  Additionally, I participated in the redesign of all menus for the Olive Garden group on a nationwide basis. 

In summary, I enjoy teaching and learning inside and outside of the classroom.
---
Education
D.B.A. - Doctor of Business Administration in Business Administration,

Argosy University

M.B.A. - Master of Business Administration in Aviation,

Embry-Riddle Aeronautical University

B.A. - Bachelor of Arts in Communications,

Ohio State University-Main Campus
---
Currently Teaching
CEBA 397

:

Coop Ed Business Admin.

CEBA 396

:

Coop Ed Business Admin.

BA 427

:

Mgmt Multicultural Workforce

BA 520

:

Org Behavior Thry App in Aviat

BA 325

:

Social Rspnsblty & Ethics Mgmt

BA 599

:

Special Topics Business Admin

BA 699

:

Special Topics in Bus Admin
---
Courses Taught
BA 101  Introduction Business Programs & Careers

BA 201  Principles of Management 
BA 317  Organizational Behavior  

BA 325  Social Responsibility and Ethics in Management 

BA 427  Management of Multicultural Workforce
---