Jonathan Campbell
Title

Associate Professor of the Practice, College of Aeronautics; Associate Program Coordinator, BS Engineering Technology

Email

Department

Department of Engineering and Technology

College

College of Aeronautics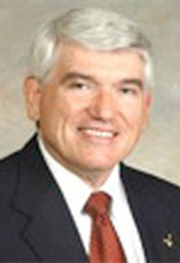 ---
Biography
Dr. Campbell was born in 1950 in Alexander City, AL. He graduated from Benjamin Russell High School in 1968 as an Eagle Scout and a Beta Club and National Honor Society selectee. Dr. Campbell also received Scouting's God and Country award.
At Auburn University, Dr. Campbell was accepted by Advanced Army ROTC and later selected for the Auburn Ranger Company and the Auburn Cooperative Engineering program. He worked at Pratt and Whitney Aircraft on SR-71 engines, F14-B engines, and RL-10 rocket engines. Honors include Scabbard and Blade, Tau Beta Pi, and Sigma Gamma Tau.
Graduating in 1972 with a B.S. in Aerospace Engineering as a Distinguished Military Graduate, Dr. Campbell received a Regular Army Commission as a 2nd Lieutenant and entered graduate school. Graduated in 1974 with a Master's in Experimental Plasma and Fusion Physics -- thesis title "Measurements Taken On A Transient Helium Plasma Using A Magnetic Probe and Other Diagnostic Techniques."
He reported to Fort Bliss, TX, to attend the Basic Officer's Air Defense Course and the Chaparral/Vulcan Officer's Course. After graduating as an honor graduate from both courses, Dr. Campbell completed Army Airborne School at Fort Benning, GA, and was assigned to the First Infantry Division in Europe. Promoted to Captain at the end of his third year on active duty and was next assigned to the DIA Missile and Space Intelligence Agency (MSIC) at Redstone Arsenal, AL.
Leaving active duty, Dr. Campbell continued as a civilian at MSIC and joined the Air Force Reserve. He was first assigned to the Air Force Systems Command at Arnold Air Force Station, TN, and later to Wright-Patterson Air Force Base, Ohio, at the Foreign Technology Division at Wright Patterson Air Force Base. On 7/7/77, he realized a dream and completed his first solo and went on to earn the Instrument/Commercial/Certified Instructor (CFI) and Certified Instrument Instructor (CFII) ratings and certificates from the FAA.
Today, Dr. Campbell is an active flight instructor with more than 2,000 hours in multiple aircraft. He created and served as the first commander of the Redstone Arsenal Civil Air Patrol Squadron. In the early 1980s, he accepted a position as a civilian at NASA/MSFC and completed an M.S. in Engineering Management, an M.S. in Theoretical Physics, and a Ph.D in Astrophysics and Space Science. His dissertation title was "Imaging the Sun in Hard X-rays Using Fourier Telescopes."
---
Education
Ph.D. - Doctor of Philosophy in Physics,

University of Alabama in Huntsville

M.S. - Master of Science in Physics,

University of Alabama in Huntsville

M.S. - Master of Science in Engineering: Industrial and Systems Engineering,

University of Alabama in Huntsville

M.S. - Master of Science in Experimental Physics,

Auburn University Main Campus

B.S. - Bachelor of Science in Aerospace Engineering,

Auburn University Main Campus
---
Ratings and Certificates
---
Currently Teaching
ETEC 315

:

Circuits for Engineering Tech

ETEC 316

:

Circuits Lab for Engr Tech

ETEC 415

:

Control Systems

MSPO 511

:

Earth Observ & Remote Sensing

MSPO 513

:

Space Habit & Life Supp Sys
---
Research Projects
---