Matthew Kindy
Title

Instructor of Engineering

Email

Department

Engineering Fundamentals

College

Daytona College of Engineering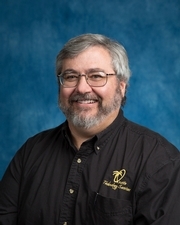 ---
Biography
Mr. Kindy began his career as an automotive coatings service representative after completing his initial degree in chemistry.  He extended this experience by moving into the plastics and plastic colorant industry, becoming a research and development chemist.  A few years later, the opportunity to relocate to Florida brought him back into automotive coatings.  Since his undergraduate years, Mr. Kindy had great enthusiasm for computer programming and decided to make it his career when he obtained his graduate degree in computer science.  As well as satisfying his great interest in teaching, Mr. Kindy has created and grown a small-business technology consultant firm in the Daytona Beach area.
Mr. Kindy is currently an instructor in the College of Engineering Engineering Fundamentals department, primarily teaching courses in computer programming. His research interests involve discovering and resolving difficulties the new programmer may experience with learning in this field while making the beginning study interesting and relevant.

Mr. Kindy is a firm believer in learning by doing and designs his courses to maximize the hands-on approach.  To keep the extensive practice interesting, he strives to offer variety to the assignments and promotes an attitude from the student of "higher expectation".  He believes student interest should determine the focus of assignments and strongly encourages his students to find project topics based upon their interests rather than using stock assignments.
Mr. Kindy was one of the first to promote the learning of graphical user interfaces and event-driven programming in the beginning engineering programming course.  Students begin with traditional command-line interface, then advance to built-in standard dialog boxes and eventually entire GUI-driven programs.  This work continues in a non-engineering fundamentals of programming course. 
Mr. Kindy's goal for his programming courses is to drive them toward "physical programming" where the code permits interaction between physical objects – use of sensors, controlling motors, processing imagery.  His development work includes creating a virtual world for a robotic car.  When finished, the world will permit students to write code that will control the virtual car.  When the student's code works correctly, s/he will then install the code in an actual vehicle for real-world tests.  This "development world" will be modular, permitting the student to work with virtually any programming language or any real robotic vehicle.  In the end it is hoped that the new programmer will be able to learn by making a robot function rather than just producing output on a screen.
In addition to the above, Mr. Kindy is involved in developing hybrid (on-line and face-to-face) courses and has published a text for the beginning Python programmer.  He also spends time creating and updating computer utilities for the aid of instructors and the Engineering Fundamentals department.

---
Education
M.S. - Master of Science in Computer Science,

University of Central Florida

B.S. - Bachelor of Science in Mathematics,

Purdue University System : Purdue University Calumet

B.S. - Bachelor of Science in Chemistry,

Purdue University System : Purdue University
---
Currently Teaching
EGR 115HYB

:

Intro Computing for Engineers
---
Courses Taught
IT109
CS223
CEC320
EGR115, EGR115HON, EGR115HYB
CS118
---
Publications
Hybrid Course Design: Leading a New Direction in Learning Programming Languages with Caroline Liron and Lulu Sun


Python 2: For Beginners Only - An introductory text into the computer programming language of Python. ISBN 978-1490334967

---
Professional Experience
7 years automotive coatings
3 years plastics and plastic colorants
10 years information technology consultant

Research Interests:
Multimedia-oriented Paradigms for Beginning Programming Students

---