Patti Clark
Title

Associate Professor, College of Aeronautics; Program Coordinator, Master of Aviation Maintenance

Email

Department

Department of Graduate Studies

College

Worldwide College of Aeronautics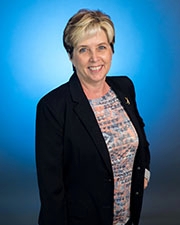 ---
Biography
Dr. Clark holds a Bachelor of Science in Professional Aeronautics as well as a Master of Aeronautical Science (Management and Safety specializations) from the Embry-Riddle Daytona Beach Campus. Dr. Clark also holds Doctor of Philosophy in Business Administration with a specialization in Aeronautical Science Management from Northcentral University in Prescott Valley, AZ.
Organizations: Dr. Clark is a member of American Institute of Aeronautics and Astronautics, Professional Aviation Maintenance Association,Women in Aviation International and the Project Management Institute
Awards and Experience: Dr. Clark began her career in aviation in military service as an aircraft jet engine mechanic. She followed that career path through several USAF Reserve and Guard assignments. After leaving military service, she continued to work with the USAF as an aircraft and engine Air Force Engineering Technical Services (AFETS) specialist.
Dr. Clark also has many years of experience working in consulting roles on aviation, environment and safety projects. Additionally she has commercial airport management experience and served on a number of aviation-related committees or panels. Sustainability in the aviation industry, aviation maintenance workforce development and airport efficiency indicators are Dr. Clark's primary research interests.
Dr. Clark is a certified Project Management Professional by the Project Management Instituted, a Certified Member of the American Association of Airport Executives, and a certified Airframe and Powerplant (A&P) Technician by the Federal Aviation Administration.
---
Education
Ph.D. - Doctor of Philosophy in Business Administration: Aeronautical Science Management,

Northcentral University

M.A.S. - Master of Aeronautical Science in Aeronautical Science: Aviation Aerospace Management and Aviation Aerospace Safety Systems,

Embry-Riddle Aeronautical University

B.S. - Bachelor of Science in Profess Aeronautics,

Embry-Riddle Aeronautical University

A.S. - Associate of Science in Profess Aeronautics,

Embry-Riddle Aeronautical University
---
Ratings and Certificates
---
Currently Teaching
AASI 620

:

Avia/Aero Sust Technq Dev Prac

SFTY 311

:

Fund Occ Safety & Health

MAVM 605

:

Global Maint Resource Mgmt

MAVM 601

:

Leadshp Global Avia Maint Org

MAVM 615

:

Strategic Mgmt Global MRO Ops

AASI 600

:

Sustainable Avia/Aero Perspect
---