Ricardo Carreras
Title

Associate Professor Business and Economics

Email

Department

School of Business

College

Prescott College of Arts & Sciences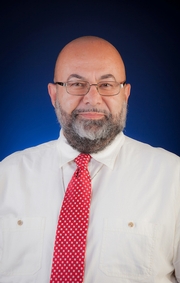 ---
Education
Ph.D. - Doctor of Philosophy in Land Use Panning Mgt & Des.,

Texas Tech University

M.S. - Master of Science in Interdisciplinary Studies,

Texas Tech University
---
Currently Teaching
SS 204

:

Introduction to Geography

EC 210

:

Microeconomics
---
Publications
RESEARCH PAPERS PRESENTED:
The International Monetary System and the External Debt of Developing Countries.
The Environmental Responsibilities of Engineers.
Desertification: World Historic Causes and Environmental Consequences.
Brasilia: Urban Response to Sociological and Demographic Pressures.

REFEREED PAPER FOR A NATIONAL CONFERENCE:
Pasture Management in the Kenyan Rangeland.
Economic & Environmental Impacts of the Sedentarization of Nomads in Northeast Kenya.
Policies of Environmental Development for the "No"-Sedentarization of Nomads in Northeast Kenya.

ARTICLES IN REFEREED JOURNALS:
Rural Environmental Consciousness and the Mexican Ejido, The Case of Santo Domingo, S.L.P. and Pinos, Zac.
Historic Evaluation on the Environmental Impacts of Exporting and Smuggling Exotic Fauna to Ecosystems From Where They Did Not Evolve.

ARTICLES IN NON-REFEREED JOURNALS:
Historic Development of Mexico's Foreign Debt.
Mexico's Dependency on Oil, and its Direct Relationship with its Economic, Political and Social Crises.
Management of Natural Resources of Arid Zones as a Means for Socio-Economic Development.

UNPUBLISHED RESEARCH REPORTS:
Macroeconomic Considerations on the Subjects of Monetary Supply, Interest Rates and Devaluation.
Comparative Analysis on Three Methods of Public Budgeting.
Economic Analysis of Subsidy Programs in International Trade.
Mexico's Economic Crisis in Relation to the Policies of the International Monetary Fund and the World Bank.
Socio-Political Analysis of Mexico's Agrarian Reform. An Economic and Agrarian Perspective.
Marketing Analysis of Mexico and Its Computer Industry Within the Free Trade Agreement (Mexico-Canada-U.S.A.)
Interrelationship Between the Management of Natural Resources and the Private Industrial Development.
Socio-Economic Study of Livestock Potential for the Introduction of Exotic Fauna into the Desert of Sonora. A Case for Ostriches, Camels, Elands and Impalas.
Desertification Processes in the Puebla-Tlaxcala Region. Economic and Social Repercussions.
Mexico and the Depletion of its Natural Resources. Possible Alternatives for that Country.
Descriptive Analysis on the Environmental Geography of the Chihuahuan Desert.
Economic and Financial Evaluation of an Agricultural Project for the Substitution of Rice Paddies for Groundnuts in The Gambia.
Legal Perceptions on Weather Modification as a Means for Land-Use Planning.
Social Structure in Mexico and its Influence in the Nation's Economic and Political Decision-Making-Policies
The Socio-Economic and Environmental Impacts of Non-Incorporated Suburban Neighborhoods. The Case of Carlisle, Texas.
Historic Development of the Anthropological Concept on Sexuality and Marriage.
Analysis of the Anthropological Concept of "Physical Beauty" through History and Civilizations.
---
Professional Experience
Sir Wilfred Grenfell College, Memorial University of Newfoundland
Assistant Professor, Corner Brook, NF (1995-2002)

Guest Professor - Winter Semesters 1999, 2000, 2001
College of the North Atlantic - Corner Brook Campus.
Participated in the development and implementation of the Environmental Studies Program.
Developed and established diverse courses in Economics and the introductory course in Business.
Cooperated actively in diverse Academic Committees such as the Academic Studies Committee, the Senate Sub-Committee for Undergraduate Studies, the Library Planning Committee, the Public Policy Committee, the Value Analysis Committee, the Women Studies Committee, the Environmental Studies Committee, chairing for two years the Scholarship Committee and, Grenfell's representative at the Student Centre Management Board; among others.
Counseled students on courses to be taken, and structured diverse course syllabi.
Participated as Guest Speaker in several other courses in cooperation with requests by some of my colleagues.
Coordinated and/or participated in several Applied Research Projects in Socio-Economic Impact Assessment, Entrepreneurial Business Plans, Forestry Economics, Research Questionnaires in Economics and in Environmental Studies.

VOLUNTEER WORK with several community and civic organizations '
University of Northern British Columbia,
Prince George, BC, Sessional Lecturer (1994-1995).
Presented several side lectures in "Latin American Political Economy" and in "Mexico: Political Endurance and Economic Crises".
Counseled students on courses to be taken, and structured diverse course syllabi.
Business Consultant, Market Research & Financial Forecasts At The RAMCO Group (Vancouver).
Evaluation of business opportunities in B. C. for potential investors and develop business proposals that should comply with requirements from the Ministry of International Business and Immigration, the Federal Business Development Bank and Immigration Canada. From July 1990 - July 1994.

Full-Time Professor and Researcher at the prestigious "Universidad An''huac del Sur" in Mexico City. From 1987 to 1989.
Responsible for advising students in their Theses and Professor of Macroeconomics, Microeconomics, Economic and Political Problems of Latin-America, Environmental Economics, and Eco-Tourism.

Part-Time Consultant in Land-Use Planning at the "Ministry of Urban Development and Ecology" in Mexico City.' During 1987 and 1988. Work oriented to the research and development of Environmental Impact Statements for the impact of construction projects in urban areas.

Technical Assistant in Agricultural Economics at "The National Institute of Geography, Statistics and Informatics" Agency of the "Ministry of Programming and Budgeting" in Mexico City. From September 1982 to January 1983.

Work related to the collection and interpretation of all national agricultural data. Work left for reasons of continuing doctoral studies in a foreign University.
---