Ron Madler
Title

Professor of Aerospace Engineering

Email

Department

Aerospace Engineering Department

College

College of Engineering
Areas of Expertise
Orbital Debris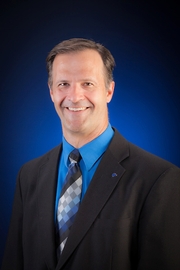 ---
Biography
Dr. Ron Madler is the Dean of the College of Engineering, at Embry-Riddle Aeronautical University in Prescott, AZ.  He has been the dean since 2010 and has been on the faculty since 1994.  The dean is responsible for the strategic direction of the college. He focuses on facilities, accreditation, curriculum, and is the primary focal point for external relations. He is the primary interface with the Worldwide and Daytona Beach campuses and represents the college in the President's Council, Academic Council, Dean's Council and Campus Council. In addition, he has teaching responsibilities in the Aerospace Engineering Department. Dr. Madler's primary professional interests are in Engineering Education, Orbital Debris, Astrodynamics, Spacecraft Design, and Space Exploration.
---
Education
Ph.D. - Doctor of Philosophy in Aerospace Engineering Sciences,

University of Colorado at Boulder

M.S. - Master of Science in Aerospace Engineering Sciences,

University of Colorado at Boulder

B.S. - Bachelor of Science in Aerospace Engineering,

University of Colorado at Boulder
---
Currently Teaching
ES 204

:

Dynamics

EGR 101

:

Intro to Engineering

AE 427

:

Spacecraft Preliminary Design
---
Courses Taught
AE 313, AE 325, AE 326, AE 427, EGR 101, EGR 115, EP 394, ES 201, ES 202, ES 204, ES 315, and other courses including special topics and directed topics.
---
User Publications
Spencer, D.B. and R.A. Madler, "Orbital Debris – A Space Hazard," in Space Mission Engineering: The New SMAD, eds. J.R. Wertz, D.F. Everett, and J.J. Puschell, Microcosm Press, 2011.Helbling, J. and Beck, A., "Configuration of Senior Capstone Course using Team-Teaching to Maximize Communication Skills and Minimize Team Conflicts", 2011 ASEE/PSW Conference, March 2011.
---
Professional Experience
Dean of College of Engineering, Embry-Riddle Aeronautical University, 2010-Present
Professor, Aerospace Engineering, Embry-Riddle Aeronautical University, 2010-Present
Visiting Professor, Hochschule für Angewandte Wissenschaften, München, 2011
Associate Professor, Aerospace Engineering, Embry-Riddle Aeronautical University, 1998-2010
Assistant Professor, Aerospace Engineering, Embry-Riddle Aeronautical University, 1994-1998
OceanIT, Inc., Senior Scientist, Visiting Scientist, 2007
Chair of Aerospace Engineering, Embry-Riddle Aeronautical University, 2001-2006
NASA JSC, Senior Scientist, Visiting Scientist, 2006
NASA JPL, Faculty Fellow, Summer Faculty Fellow, 2005
Boeing - A.D. Welliver Faculty Fellow, Summer Faculty Fellow, 2004
AFOSR Faculty Fellow, Summer Faculty Fellow, 1995-1998
---
Memberships and Credentials
American Society of Engineering Education (ASEE)
American Institute for Aeronautics and Astronautics (AIAA)
American Astronautical Society (AAS)
---
Awards, Honors and Recognitions
ASEE CIEC Executive Board Chair 2015
ASEE College-Industry Partnerships Division (CIPD) Chair 2013-2014
ASEE CIPD Director/Officer 2011-2016
Associate Director for Arizona Space Grant Consortium 2000-2016
Humboldt Unified School District (HUSD) Superintendent's Advisory Committee 2015-2016
Humboldt Education Foundation (HEF) 2019-Present